TUGZip - trying to be a do-it-all archive manager
reviewed by Zaine at DonationCoder on 9/5/05
I've never tried TUGZip but I may give it a try after reading this article from Zaine. The article explains some of the ideas behind file compression or "archives" and awards the "best of" in the categories of all archive programs, open source, and freeware.
Below is just a portion of the article concerning TUGZip. Go here to see the entire article.
At first glance, TUGZip gives the appearance of a quality archiver and one you're inclined to favor. But scratch the surface and you'll find TUGZip is slow with large archives. Although it took less than twelve minutes to archive our 1G test file using RAR format in TUGZip, it took almost 50% longer using its default 7z format. Nor did its encryption feature work.
Three different layouts are available, with something to suit all skill levels, and for the real beginner it's possible to create self-extracting archives which require no archiving software open. While its SFX module worked well, its dialog would not allow you to type in the file name, despite being prompted to. TUGZip's current version is 3.3.x, and it will be interesting to see its progress over the next year, and when we revisit our review of archivers.
PROS
Interface is familiar, somewhat customizable, and its Explorer view is easy to use.
Configuration options were ample, and applied immediately.
Ability to export customized settings.
Batch archive creation.
RAR and 7z creation and extraction (WinRAR creation requires an installation of WinRAR).
CONS
Suffers from slow archiving speed.
When navigating the archive directory in archive view, TUGZip does not update the tree view.
Help file was an older version than the program.
New archive path had no memory of last folder or default archive folder.
GUI and toolbar customizations are minimal.
Find feature consistently found wrong files.
Unable to create archive using the Add To option in the context submenu.
Encryption option from Tools menu is inoperative.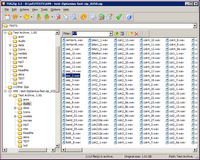 click to expand
Quote from TUGZip - TUGZip is a powerful award-winning freeware archiving utility for Windows® that provides support for a wide range of compressed, encoded and disc-image files, as well as very powerful features; all through an easy to use application interface and Windows Explorer integration. Try this great free archiving utility!