Yanobs Online Notepad - your notepad on the road?
Posted by ClifNotes, Apr 2008, permalink Web Service
I like this one. It's fast and simple. It looks as if they allow you to attach files which would be a big plus. So far, I haven't been able to attach files and I'm not sure if that feature is functional yet.
Update: May 2008
Anthony at Yanobs wrote in with news.
This bug is corrected now, so you can upload files up to 5 Mb each for the moment. If you find other bugs please tell us, using the contact page on the site ( http://yanobs.com/notepad/?p=contact ).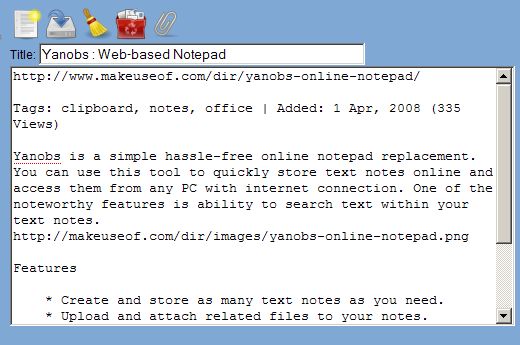 Quote from the website
Welcome on Yanobs Online Notepad, your sticky notes keeper. Never lose your memos on small papers any more, quickly save them here! Use the search engine to find text in your notes, and add attachments.

---