Newsletter Archive Reviews Archive

Welcome to Clif Notes Newsletter
April 20, 2008
Hi Everyone.

Thanks for reading my newsletter. Each week, I will have freeware reviews, tips, tricks, news, and lots of cool websites for you to check out.

I hope you enjoy this week's letter. Be sure to write me for advice or yell at me for messing up.

Click here to chat while

visiting this newsletter!

_Online?
REVIEWS
QuickMonth Calendar - hover over the system tray to see it
Posted by ClifNotes, Apr 2008, permalink Desktop Tools
Have you ever wanted to view more than just the current date quickly? I usually double click the date in the system tray to see the calendar that Windows uses to set the date and time. I always worry I'll accidentally set the date or time wrong when I'm doing that.
The QuickMonth Calendar allows you to quickly view a calendar. As soon as you hover your mouse cursor over the date in the system tray, it will pop up a nice little calendar for you.
I have a special place in my heart for small, stand-alone programs that do only simple and useful jobs. The QuickMonth Calendar definitely qualifies for this category because it's only about 200kb and it is very simple to use.
To install it, you can download a zipped copy of this program, then unpack it wherever you want it to reside. Place a shortcut to it in the Windows Startup folder if you'd like it to run every time Windows starts up. It won't place any entries in the Windows registry and you don't have to worry about uninstalling it if you don't like it. You only have to delete the program folder to make it go bye-bye.
Quote from the website
Here are a few of QuickMonth Calendar's features:

• To quickly jump to today's date, right-click on the calendar or left-click the bottom of the calendar where it says "Today."

• Use the buttons at the top of the calendar to change the month. You can also left-click on the name of the month to see a popup menu of all the months (see example 1).

• Left-click on the year to quickly change the year (see example 2).

• The calendar automatically detects the location of your Windows taskbar, so if you move the taskbar to the top, left, or right side of the screen, the calendar will still display next to your system tray clock (you may have to restart Windows once for the change to take effect).

• The look of the calendar changes according to what your system colors are (as determined by your current Windows theme or visual style).



http://www.codedawn.com/home/quickmonth-calendar/
---
CloneSpy - duplicate file finder and cleaner
Posted by ClifNotes, Apr 2008, permalink File Management
Tony at Top Freeware emailed me with some tips on new stuff. I asked him what was new on his site and he replied with this item ...
---
Free Zune Video Converter - save tons of time uploading to Zune
Posted by ClifNotes, Apr 2008, permalink Video Encoders/Converter
Mike C. is a friend of mine at work. He's a huge video junkie and he often has to upload new movies to his Zune player. The biggest problem with that is time. He says that the Zune will accept uploads from his PC in various file formats, but it seems to take forever while it does it's own conversion to it's own special format.
Mike ran into this utility and he now converts the files before he uploads them. It saves him tons of time and he wanted me to share this with all the other Zune-a-maniacs out there. (Are there any?)
Be sure to comment below if you have any tips on using a Zune.
Quote from the website
Free Zune Video Converter is an absolutely free application which converts the most popular video files (AVI, MPEG, MP4, FLV, MOV and other) to Microsoft Zune compatible video format (WMV, MP4). You can also extract audio tracks from video files to MP3, WMA and M4A (AAC) format. The application allows you to convert full movie or selected range only. You can limit output file size and set many parameters used by encoder.

http://www.dhost.info/jack1024/index_en.php
---
DesktopZoom - magnify the entire desktop
Posted by ClifNotes, Apr 2008, permalink Desktop Tools
Bigjohnny posted this review in my WriteYourOwnReview section. This looks like a great zoom tool. I personally use the Zzoom magnifier when I need it.
Quote from the website
• Zoom an area around the mouse, zoom a fixed window or zoom the entire desktop

• Use the mouse inside the zoomed window

• Use the mouse wheel or arrow keys to adjust the magnification strength

• View the entire screen as a thumbnail in the right-bottom corner

• Follow the caret & menu items

• Change the colors to grey or invers the colors

• Show the original screen with a transparency value between 0 en 100%

• Show a bigger mouse and/or a crosshair

• Use Alt-keys to change the zoomvalue and to enable/disable tracking and the crosshair

• Save all the settings to a file for automatic loading



http://users.telenet.be/littlegems/MySoft/DesktopZoom/Index.html
---
Extora - calendar, agenda and note taking software
Posted by ClifNotes, Apr 2008, permalink Info Management
Stongg wrote in to my WriteYourOwnReview section with a new PIM I haven't seen before. Nice find.
Note: Make sure you download the free version and not the pro version. The download page has links to both versions on it.
click to expand picture
Quote from the website
Does this sound familiar? You urgently need to write down something important - a telephone number or details of an important meeting - so you use whatever you can lay your hands on: a piece of paper, a scrap of newspaper or the first computer text file you come across.

The important note is recorded, and the issue seems to have been resolved. But just when you thought it was OK, you discover the note is needed again only to find that it is buried somewhere under a pile of similar scraps, while the temporary text file has been moved to trash or lost somewhere on the network disk of an unknown server.

To help prevent this situation, we have launched Day Planners/Note Managers: Exstora Pro and Exstora, designed to assist you in note taking and organizing your information.



http://www.exstora.com/download_free.html
---
Windows Live Contact Importer - upload contacts to Hotmail
Posted by ClifNotes, Apr 2008, permalink Email Tools
I've had a Hotmail account from nearly it's beginning when Microsoft hadn't aquired it yet. Since that time, I've had the account lapse several times from not using it often enough. That's no problem since they always let me renew the account using the same address.
Recently, I had let it lapse again and I wanted to update the contacts so that they agreed with my Windows Address Book. I was pleasantly surprised at how easy it was to use a free download they provide, called Windows Live Contact Importer. It'll let you update Hotmail with your Outlook or Outlook Express address books.
Whomever wrote the tool, had the right idea. Make it small and keep it simple. It's less than 300kb and there's no installation required. Just double click it and the wizard leads you through a few easy steps.
On another note, Hotmail had updated it's interface last year so that they more or less matched what Yahoo and Gmail were offering. I was not impressed. I use the Classic or older interface now.
If you use Hotmail, let us know what you think about it in the comments below.
Quote from the website
Move contacts from Microsoft® Office Outlook® or Outlook Express to get started sending e-mail to the people you care about most. Simply go to the Contacts page of Windows Live Hotmail, click Options, and then select Import Contacts. Just like that, all your contacts are at your fingertips.

http://get.live.com/mail/features#ID0EAIAC
---
Old Newsletter
I like to look back and see what I was thinking about. Here's another letter from the wayback machine.
---
TIPS AND FEEDBACK
Frapper - you people live all over the world!
Wow! Over 900 people and still growing! I invite all of you to record your locations on this map. You can include as little or as much information as you wish. I think you'll enjoy seeing yourself there.
Here's a small look at my frapper map.
---
What free software do you need?
Notes from ClifNotes, permalink Windows Tips
So what do you need? Write it down below and I'll see if I can find it. If you know the answer to someone else's question, add your answer there.
Previous What Do You Need comments
Search all the comments
---
Segway's Strange New Robot
Posted by ClifNotes, Apr 2008, permalink Cool Video
The guy in this video thinks that the best robots are really creepy when they are moving. This one certainly fits that description. I was not able to find out more about it yet. I'm guessing we'll see more of these in the future.
Original Web Page
http://www.metacafe.com/watch/1230336/make_robotbusiness_2008_segway_rmp/
---
How to find a freeware game
Posted by ClifNotes, Apr 2008, permalink Software Collections
CC emailed me with a link to this article at freewaregenius.com.
Thanks CC, that's a great list of places to find freeware games.

Quote from the website
At first when this posting was conceived I was going to put together a list of my favorite freeware games; however, I was thinking why create another list when there are so many out there? Here's a collection of my favorite freeware games lists:
Read the article How to find a freeware game

---
Screen Capture Shootout for Windows
Posted by ClifNotes, Apr 2008, permalink Windows Tips
Max at the Freeware Junkie blog has written up his results of a shootout among the top free screen capture tools. Naturally, I have my own preferences, but I have to agree with Max's analysis of the six he's tried out. I've only tried about 4 of the 6 he talks about.
I typically use the last freeware version of FastStoneCapture.
Quote from the website
The great free screen capture shootout for Windows!

Finding a decent screen capture utility is one of the holy grails of freeware junkies, and there are quite a few available - - but, many have their limitations, whether it be a lack of functionality, licensing, or just shoddy programming.

Here, I've taken a few of the top-rated freeware (in some form or another) screen capture programs and pitted them against each other for a shootout!

The contenders:

• Donation Coder ScreenShot Captor

• EasyCapture

• FastStone Capture

• Gadwin PrintScreen

• GreenShot

• MWSnap



---
Internet Fixes Weekend Windup
tips from Gary at InternetFixes, Windows Tips
From Clif:
Gary at Internet Fixes continues to amaze me with hundreds and thousands of tips for your PC. Whatever your operating system, or how you use it, a visit to Gary's site will soon have you saying "So that's how you do this!".
Sign up for Gary's newsletter?
Weekend Windups are now available online
http://www.internetfixes.com/weekend_windup/
---
Comments last week
Thanks to everyone who commented on the articles last week. You gave me more ideas and some good advice.
REVIEW
Browzar - your private web browser? •
Incognito - live CD for anonymous surfing •
Clip2Net - easy way to publish screenshots •
Screen Recordster - capture audio and video from your desktop •
PDF-XChange Viewer - faster than Adobe •
FEEDBACK
List of nice free E-book libraries •
Koma-Mail - A Portable and Useful Email Client •
IdleBackup: Backup your files when you're not doing anything else •
Zoolou - screen magnifier and capture •
COOL
Photoshop Express - free photo hosting and image editing •
---
COOL WEBSITES
Yanobs Online Notepad - your notepad on the road?
Posted by ClifNotes, Apr 2008, permalink Web Service
I like this one. It's fast and simple. It looks as if they allow you to attach files which would be a big plus. So far, I haven't been able to attach files and I'm not sure if that feature is functional yet.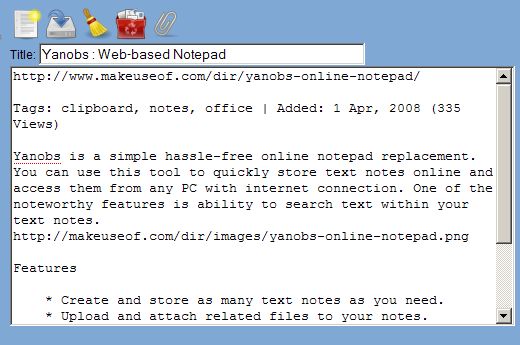 Quote from the website
Welcome on Yanobs Online Notepad, your sticky notes keeper. Never lose your memos on small papers any more, quickly save them here! Use the search engine to find text in your notes, and add attachments.

---
Ramps Flash Game - so simple and so fun
Posted by ClifNotes, Apr 2008, permalink Games
This game is simple. You have to arrange 1 to 3 ramps so that the ball bounces into it's home base. I didn't think I'd stick around to finish this game. Once you've started, it's very hard to stop.
My first score was 97040. That's pretty lame ... can you beat it?
Wait till you see the sharks and robot hands before you decide it's too easy.
Be sure to visit the website to see more games there.
http://www.tylersticka.com/interactive/games/
Quote from the website
The project was a "Featured Game" on the homepage of Newgrounds (the top Flash gaming and animation site on the web) during the week of August 20, 2007 , where it received over 25,000 plays in three days. It was also played 7,500 times on deviantART by August 22. It was also the "Game of the Week" on the popular gaming site GameGarage for the week of August 27.

The game includes 33 different levels with five different unlockable cheat codes based on your score. There are four unique types of obstacles (aside from the lava) and ten types of dynamic in-game elements.
---
Top 50 Open Source Alternatives
Posted by ClifNotes, Apr 2008, permalink Cool Website
I saw this page linked in a couple of news sources. I didn't think I'd be impressed until I actually visited the page. They've provided information on some Open Source programs I've never heard of that sound just super.
Quote from the website
The Top 50 Proprietary Programs that Drive You Crazy — and Their Open Source Alternatives
The following fifty proprietary programs are listed in no particular order within broad categories along with their open source alternatives. In some cases you could probably write your own book on frustrations with the proprietary programs shown here. In other cases, you'll discover that the open source alternative isn't quite up to snuff yet. And, in other cases still, you'll learn that some proprietary programs are real gems, but that the open source advocate can replace those gems with equally shiny objects from the open source repertoire.
---
DotWhat - for unknown file extensions
Posted by ClifNotes, Apr 2008, permalink Web Service
I used to recommend filext.com for finding out what those last letters after the dot in a file name are for. Now that I've seen dotwhat.net, I'm sure I can recommend both of them.

Quote from the website
This site uses a huge database of file extension information, mainly (but not exclusive to) the Microsoft Windows (Including Windows Vista!), Apple Macintosh and Linux operating systems.

We try to provide as much information as possible for each entry, and we encourage all visitors to contact us if they have any additional information, or have a new file extension that they would like added to the database. Alternativly, each entry can be edited and visitors have the option of adding a comment, question or tip!
---
Wanokoto Labs Image Aging Service
Posted by ClifNotes, Apr 2008, permalink Web Service
I saw a link to this site along with some example images. I simply can't read Japanese, but that's okay. You don't have to read a word to see the results. Do you have any personal photos that you'd like to artificially age a little?
Just upload your pics and click the button underneath. Soon you'll see you photo but it'll look like you took it in the early 1900's.
Clif in the lab, working smart, not hard ...
写真をアップロードしてください。なんでも幕末の古写真風にしてみます…
Google Translation:
Upload photos please. Old photos of everything in the wind late Edo try…
---
CoolSites Newsletter this week
Here are a 6 links (out of dozens) from Mark's CoolSites Newsletter. Be sure to visit his site and see the rest of his links this week.
Quote from the website
COOLSITES is a list of safe, fun, useful, informative and just plain cool websites and programs that are FREE, FREE and FREE. All of the programs and websites I list are free. If I list anything that is so good but isn't free I will list the price with it.
http://luem42.googlepages.com/coolsites.html
---
NEW NEWS
SnapFiles.com - new and updated freeware
Source - http://snapfiles.com/freeware

---
News from Sarah in Tampa
Source - http://sarahintampa.com

---
Security news from Malware Advisor
blog by TeMerc Internet Countermeasures, source
Infected? Go to http://temerc.com for help

---
CyberNirvana: Zia's blog about the web and web technology.
---
OTHER STUFF
Get Gmail! and Get Firefox!
You need a free 6 GB Gmail account to access many of the cool features at Google. After more than two years in beta testing Gmail is open to the public. Just go to http://gmail.com and sign up for an account.
I think Gmail works best in the awesome Firefox browser. It's free, easy to use, and it's way more secure than Internet Explorer. My favorite thing to do is to customize Firefox so that it does much more than IE ever could. You can select new button controls for your toolbars, install extensions to add new features, or change the look of your browser with themes - the way Firefox looks and works is under your control.
---
Now you can chat with anyone visiting a website by using Meebo. To see who's gabbing at this website, click here.
Find out more about Meebo.com
---
Write your own review
I get many of the reviews in the newsletter from the readers. You don't have to be a genius or computer guru. Just answer a few questions and send me a review. I'll probably put you in the newsletter.
---
What do you have to say?
Just tell me what article you are talking about and leave me your comment.
---
Have fun and surf safely.
Clif
http://clifnotes.net & http://freewarewiki.pbwiki.com
Devoted to promoting Freeware and Free Information
---
Please provide a link back to the webpage used if you publish any part of Clif's pages.
Visitors to Clif Notes: