Newsletter Archive Reviews Archive
Welcome to Clif Notes Newsletter
July 23, 2006
Hi Everyone.

Thanks for reading my newsletter. Each week, I will have freeware reviews, tips, tricks, news, and lots of cool websites for you to check out.

I hope you enjoy this week's letter. Be sure to write me for advice or yell at me for messing up.
REVIEWS
dBpowerAMP Audio Player by illustrate
review by Richard, July 2006
Richard wrote to tell us all about an audio player he's using.
Features:
* The player supports practically every audio type created: mp3, mp4, m4a, wma, Ogg Vorbis, AAC, Monkeys Audio, FLAC, the list goes on.
* Easy on system resources - small / fast / modularized: only components used are loaded. It uses 8-16 times less ram than itunes. Works with Microsoft media keyboards.
* The My Music Collection (MMC) library database is the heart of this program. Add entire music folders or individual files or configure to automatically search for new tracks when the program is opened.
* Under collection button you can export, combine, create playlists, clear lists, highlight and search for missing files, set to play random.
* The (MMC) can be used as an alternate player, one main window with all music files / search are right at your finger tips, without using a ton of system resources.
* En-queue tracks to playlist (add as many as you want to the list). Rate songs on a five star basis and play according to the rating.
* There is a (volume boost) in MMC where tracks can be adjusted to knock down clipping, plus the player will remember the setting the next time the track is played. Also, as an added bonus there is a fantastic little program called Mp3Gain. This program is completely free, it analyzes mp3 files to determine how loud they sound to the human ear. It can then adjust the mp3 files so that they all have the same loudness without any quality loss. This way, you don't have to keep reaching for the volume dial on your mp3 player every time it switches to a new song. Go to Mp3Gain for more information and downloading.
* Advanced I.D. tag info. Edit information: artist, song title, album and genre.
* Minimize to minitray control / hover pointer over icon and tiny dbAmp window appears / left click icon to skip to next track.
* User (standard skins) interface is rather sparse and downright butt-ugly. This can be changed by downloading advanced skins created by other users.
* Advanced skins and plug-ins are available on site. To obtain skins created by other users you will have to register with illustrate's site forum. In the forum you will find an assortment of some normal and extremely bizarre looking skins.
* The player has the standard skip back / forward, pause and stop buttons in the context menu. Right click and a option splash menu pops up: here you will find ( Amp ) to set the soundcard, multiplayer to adjust crossfade and gap length, 10 band graphic equalizer, plug-ins, credits (a little surprise here) and selectable skins.
* I prefer the StudioPro II skin: (see screenshot) the interface size is 800x600 and the appearance is palatable. Comes with right / left channel VU peak meters, spectrums, scrolling track info, mini bar and best of all a 18 band graphic EQ to adjust the low - mid - high ranges / volume boost. Included are a number of pre-sets for the EQ which can be found by clicking the load button. You can create your own settings and save them. The creator of StudioPro II skin, who goes by the name Craze, made the console open / close detachable (just click the studio button). He also added a hidden red button - you can find it in between the volume and balance control sliders. Click and you will get an expandable black drop back displaying the artist and song info. And for an extra treat, if either the song title and artist name are really long they scroll.
* There are way to many features to cover in this review, so I'll leave that up to you to discover them. Have fun !
No spyware / adware bundled. Extensive help forum. For those who have trouble installing, the tech team will be more than happy to help. They also have a program to download from the help forum that restores the program to what it should be if you run into instability problems.
If you're looking for a free and innovative audio program placing emphasis on quality, look no further. Sure you can say that dBpowerAMP doesn't have the fancy features that Windows media, the bloated itunes or Nullsofts Winamp players integrate, like visualizations and streaming audio, etc. But, compare the sound quality and PowerAmp wins the contest hands down without the bells and whistles attached. In my opinion PowerAmp has not received the attention it rightly deserves among the popular players, because it does require a higher degree of learning and this will turn off a lot of people. However, once you get a handle on the unique features you will find it fairly easy to use. This audio player will replicate rich studio recordings and make them shine. On the negative side, it will make inferior recordings sound like they were recorded inside of a garbage can. Again, other than the fact that there is a steep learning curve associated with this compact audio player it is still a dynamite product. To quote from illustrate's homepage,"If ever there was a complete player this is it! dAP has a little something for everyone."
P.S. For you hard core music lovers, I highly recommend you get the DB Music Converter as well. Clif has found a site where you can still get a free copy. Also, check out the other products Illustrate has available.
Fully compatible with Windows 95 / 98 / ME / NT4 / 2000, Windows XP
Homepage for more info and download: http://www.dbpoweramp.com/
Thank you Richard, that sounds like a wonderful freeware audio player. Great review!
---
DoubleDriver - backing up your device drivers
review by Deborah, Jul 2006
Richard wrote me to tell me about some of the cool freeware his wife found.
Hi Clif,
My wife found several freeware programs. She put together these info's. I haven't had a chance to dig into them yet, but I'll take her word that they function as advertised. I see she installed Shrink Pic - however, it appears it doesn't work with incredimail.
There comes a time when you will have to reinstall Windows. DoubleDriver can save a lot of aggravation looking around for hardware device drivers. Have you misplaced that driver disk that came with your PC (if you even got one)? You're going to be really happy with this program. DoubleDriver is very easy to use - it will scan your system for all currently installed drivers, provides a list, backs them up, and stores them in folders with recognizable names, like HP- Printer, USB MODEM DRIVERS, NVIDIA Graphics Drivers, etc. Nothing's more exasperating than clicking on folders with names like "N234214B" and guessing it holds the drivers you're looking for. Before you do a backup using DoubleDriver, make sure all your hardware is working properly and all your drivers are installed correctly. It's important to keep in mind it doesn't do you any good unless you create a backup copy.
No spyware/adware detected.
Download freeware: http://boozet.xepher.net/dd/index.htm
click to expand
---
DirMS - defragging when Windows doesn't want to
review by ClifNotes, Jul 2006
Recently, my wife (Respect2Glory) complained that Windows XP defrag utility was very slow. It was so slow it appeared to nearly give up at several points. To be honest, I rarely defrag my PCs, but when I do, I expect it to take less than an hour.
What was my solution? I'd been hearing about a free defrag utility called DirMS and decided to try it. Here's a screenshot of it in action ...
As you can see, it's a pretty plain jane interface, but it does the job. Is it better than Windows defrag? I don't know and I wasn't able to find any evidence that it is. However, it did the job for my wife's laptop when she needed it.
There is one thing about it I should mention. This is a RegisterWare application and the authors would like you to register it. I tried to myself, but for some reason it didn't take. That's no big deal though, because it appears to work anyway.
DirMS comes in two versions, DirMS-S and DirMS-CL. The S version is the one you see above with a Windows grapical interface (GUI). The CL version is a command line version which makes it easy to schedule it to run using the Scheduled Tasks applet in the Windows Control Panel.
Quote from the website
Defragment Hard Drives

Move non-contiguous "fragments" of a file to a single contiguous location.

Full Drive Defragmentation

DirMS can decrease fragmentation in large files by using a partial defragmentation algorithm and will also compact files to rid your system of the dreaded interstice problem. The operation of DirMS similar to Diskeeper, but has some differences, like moving files not just from the bottom of the drive to the top, but actually finding the largest free space that is achievable and moving files to both the front and end of the drive to get the biggest possible free space in which to defragment.

Partially Defragment

Suppose you have a huge file that contains several hundred fragments. You might find that some defragmentor programs will not even touch it, since there is no free area large enough to put the contiguous file. That is silly! Un-fragmenting it into a dozen large fragments gives you most of the benefit! If the drive is nearly full, this will be the case for most files. But dirms can partially defragment a file, the best it can under the circumstances, and still provide improvement.

Squish out small gaps between files

Other programs actually leave little gaps between files. These do not show up on their interactive displays, so you might not know you even have them! Though you might wonder why a disk that's only 80% full has no visible free areas.
DirMS website (registerware)
---
Launchy - stop searching for programs
review by ClifNotes, Jul 2006
If you have dozens of programs installed on your PC (like I do), then it can be a real adventure just finding out where you have the links to it at in your "All Programs" start menu. Sometimes, a program is listed under the authors title and it really doesn't have the same name as the program. That's very frustrating!
Now comes Launchy. Just install it, then hit Alt+Space on your keyboard and up pops a small search box. Start typing in the program's name and it displays all the closest matches. Once you see what you want just click on it to launch it. That's great, and I think I'll keep this little program around.
Quote from the website
Launchy is a free windows utility designed to help you forget about your start menu, the icons on your desktop, and even your file manager. Launchy indexes the programs in your start menu and can launch your documents, project files, folders, and bookmarks with just a few keystrokes!
---
StripMail - stop sending all those forwarding marks
review by ClifNotes, Jul 2006
I forward quite a few emails to friends, but I don't like all those ">" and "|" marks that some email clients put into emails that have passed through more than one person.
What can you do about it?
Here's what I do:
1. Hit forward in the email.
2. Copy or cut the entire email from the compose window.
3. Fire up StripMail and paste in the email.
4. Hit the "Do it all" button.
5. Paste the reformatted email back into the compose window.
StripMail is easy to use, does the job, and it's a single executable file that doesn't need installed. Just double click it and start removing those nasty looking forward marks.
Quote from the website
StripMail is a FREEWARE utility that:
Strips the characters ">" and "|" from forwarded e-mails.
Formats the text into paragraphs, making it easier to read.
Changes the text's right margin, by indenting.
Can be used with any e-mail client.
---
Spyware Blaster - prevent spyware from installing
comments from Clif, review by GeorgesFreeware, Nov 2004
I don't know why, but I've never reviewed Spyware Blaster. My wife and I use it on all of our computers. Here's a great review of it from George.
Spyware Tool -- SpywareBlaster
SpywareBlaster works very much like the "Immunize" function in Spybot. It does not have a scanner. It essentially installs a dummy file on your computer that fools web sites into thinking that its spyware has already been installed. It prevents the installation of spyware.
When you open the program, you will see the "Protection" tab displayed first. You may note in the above screen shot that it shows that Mozilla/Firefox protection is enabled. This option only displays ...
read the rest of the article at George's Freeware Reviews
Spyware Blaster Website - Freeware
Final Note:
Tom at Temerc wrote me and reminded me that the review above is for an older version of Spyware Blaster. He also noted there isn't much difference between the versions, but I always listen to the spyware prevention experts at his website, so I posted this note. If you ever have any problems with spyware on your PC, be sure to drop by for free PC analysis and advice from Temerc. If they can't fix you up, I don't think anyone can.
---
TIPS
Should I convert from Outlook Express to Outlook?
tip from ClifNotes, Jul 2006
On 7/22/06, Phil B. wrote:
Morning Clif, I know that this isn't your line of work, but I still believe that you are way about the regular guy so here goes.
Got a question and I hope that you have an answer.
I would like to use Outlook with the added advantages such as described in Personal Tech Pipeline Newsletter, July 21, 2006.
I have both Outlook Express and Outlook on my computer. Outlook came along with MS Office that I have. I have always used Outlook Express, but somewhere along the line about a year ago I must have tried to use Outlook (most likely when I installed Office) as I do have some "stuff" over there when I look at it. I can't send or receive from there as I have changed ISP's since then. I can get Outlook all set up for that part (isp) easily. What I am wondering is this, can I some how Delete ALL of the stuff, folders, messages, contacts in Outlook so I can try to go through setting it up again. If I make this change can all of my folders , messages message rules and contacts be imported from Outlook Express easily ... or as a novice should I just forget about it and continue to use Outlook Express as I have been doing for years.
Thank you for your time in reading this and for clifnotes (Clif Notes Newsletter), as I really enjoy looking at all of the available software that is free for us to use or try out. Phil B.
On 7/22/06, Clif Notes wrote:
Hi Phil,
I can't recommend using Outlook, but I did find a good source of info about it. http://www.slipstick.com/outlook/
I recommend the Open Source application, ThunderBird for accessing your email. It will import all of your Outlook Express email and account settings.
I've got Office 2003 and Outlook installed on my new laptop. It's likely that I'll never use any of them. Instead, I'll use OpenOffice and I'm actually now getting all my email from Gmail and I've stopped bringing it onto my PCs. Thunderbird is great, but I've decided to move most of my day to day business onto the web where I don't have to rely on a single PC to get stuff done. There are online alternatives to Office applications also.
Have fun!
Clif
---
How can I view a PPS file?
On 7/17/06, Gini W. wrote:
Monday Greetings Clif!
I am taking you up on your offer re: asking questions. I had a problem last month with my pc. In order to get it operational again, the tech. stripped it down to the bare bones. I lost everything.
I have downloaded Adobe Reader and a few other things but cannot find the appropriate pps download to view what is shared with me. I went to MSN and what I downloaded was not what I was seeking. Any ideas?
Thanking you in advance, I am,
Gini
Hi Gini,
It's always nice to hear from my readers. I think I understand what you are asking about. You can't open up PPS applications, right?
Well, if that's the case, I know the answer, but I'll also show you how to find the answer yourself when you run into a similar situation in the future.
1. Go to http://filext.com
2. Search for PPS
3. See what programs show up in the "Associated Links"
In this case, Filext dot com tells us that this is a PowerPoint Slideshow file and the Associated links tells us that XNView will view it. I like XNView, which is a free file viewer, but I had no idea it could handle PPS files.
http://perso.orange.fr/pierre.g/xnview/enhome.html
I would have recommended the free Microsoft PowerPoint Viewer.
http://www.microsoft.com/downloads/details.aspx?FamilyID=428d5727-43ab-4f24-90b7-a94784af71a4&displaylang=en
So, now you have two choices for viewing PPS files. Just remember FILEXT.com if you find file types you can't open.
Have fun!
Clif
---
Tip for Windows 2000 update
from BillAllin, Jul 2006
Bill Allin wrote in with this valuable Win2k tip
Hi Clif,
Below is a note I sent to my international group about a Windows 2000 update problem that some computers have, while others don't. It's likely too long for your newsletter, but you could cut it down if you want.
If you dutifully downloaded the Microsoft security updates on Update Tuesday this month (the second Tuesday of each month) and your operating system is Windows 2000, you might have experienced a problem. One of the security updates easily installed in some Win2K machines, while it could not be installed in others. For the latter, the small globe-like icon in the system tray keeps trying to tell you that an update has been downloaded, but needs to be installed. Yet when you try to install it, the update doesn't install.
The problem is with Microsoft. That security update file was for XP. It was never intended for Win2K. So with some configurations of Win2K, the file simply won't install.
Microsoft has in the works a patch (it's in the hands of its developers now) that will become public about July 22-24. The patch will come out as a separate release. The patch will allow the security update that has been spinning its wheels for a couple of weeks to finally be installed.
Not that the installation will do any good, as Win2K doesn't have that particular security hole. But it will stop the annoying reminder icon from appearing in the system tray.
So watch for the next patch from MS on or after July 22.
Meanwhile, just ignore the reminder icon.
Cheers
Bill Allin
'Turning It Around: Causes and Cures for Today's Epidemic Social Problems,'
real and inexpensive solutions to community problems most people think are
inevitable evils of modern society. They aren't. We just have to look in the
right place.
Learn more at http://billallin.com/cgi/index.pl
---
Google Browser Sync - another bookmarking option
tip from BillWebb, Jul 2006
Bill wrote me about Google Browser Sync in response to the feedback about various ways to share bookmarks between different browsers. While this doesn't solve the problem of using bookmarks in multiple browsers, it sounds very much like a solution I could easily adopt. Thank you Bill!
Hi Clif,
Hard to believe that no one who wrote about synching bookmarks thought of this. I use it on three different machines (for bookmarks only, for personal security reasons) and it works wonderfully. All by itself it's a good reason for using Firefox, since it doesn't work with Internet Explorer ...
Bill
Bill has also written a longer article detailing how well Google Browser Sync is working for him. If you are using Firefox for most of your surfing, you should really take a look at it.
Read Bill's article at Digital Zen
---
COOL WEBSITES
Google Home Page - the cyberguide's portal
Latest Updates from CyberGuide, Jul 2006
BROWSER TOOL: GOOGLE HOME PAGE

Well, it looks like I am getting more into the Google home page recently. A number of great little tools are making me excited about what started to be a neat RSS/news aggregator. I now can add the following:
To do list
Sticky note
Calculator
Company stock information
Calendar
Quote of the Day
Date and Time
Many other goodies
Google Home is gradually taking over My Yahoo as my favourite home page. Its sheer simplicity, easy of use, speed makes it the leader. It gives me a great pleasure to use it as if I am rediscovering the web.

As I am a fussy little devil, there are still features I miss from Y! such as the Briefcase and calendar synchronisation with Outlook...
click to expand
Visit the the Google Home Page
drop on by CyberGuide's blog for his unique advice on cool toys and cool places
---
Websites I've visited recently
---
NEW NEWS
Fun in the sun
The newsletter this week is a little shorter. I went camping last weekend and haven't had as much time to work on this website. Here are a few pictures and running commentary from my wife.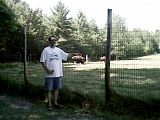 ---
Firefox 2 Beta 1
news from SarahInTampa, Jul 2006
Earlier this month, a developer preview of Firefox 2, Beta 1 was released. The beta was made available soley for testing purposes, not for everyday users. The Mozilla site even warns: "Firefox 2 Beta 1 is intended for web application developers and our testing community. Current users of Mozilla Firefox 1.x should not use Firefox 2 Beta 1 and expect all of their extensions and plugins to work properly." I learned my lesson last time, I rely on my extensions too much to go without them just so I can play around with a beta. It wasn't worth it. However, if you are ready to go boldy ahead ...
Read the rest of the story to find out how to turn on extensions in Firefox 2
Make sure to catch up on other net news at Sarah in Tampa's website
Latest news at Sarah's blog
Zune
I Have Vox Invites!
New YouTube Features?
Yahoo! Announces Motorola Deal
Zooomr Shows More Love To Bloggers
A Site For flickr Fanatics
AIM Goes Corporate
Netflix Users Get Sneek Peak at NBC Shows
---
OTHER STUFF
Get Gmail! and Get Firefox!
You need a free 2.7 GB Gmail account to access many of the cool features at Google. I'll send you an invitation right away if you write me and say I WANT GMAIL.
I think Gmail works best in the awesome Firefox browser. It's free, easy to use, and it's way more secure than Internet Explorer. My favorite thing to do is to customize Firefox so that it does much more than IE ever could. You can select new button controls for your toolbars, install extensions to add new features, or change the look of your browser with themes - the way Firefox looks and works is under your control.
---
Now you can chat with anyone visiting a website by using Gabbly. To see who's gabbing at this website, click here.
Find out more about it at Gabbly.com
---
Frapper - you people live all over the world!
Wow! Over 300 people and still growing! I invite all of you to record your locations on this map. You can include as little or as much information as you wish. I think you'll enjoy seeing yourself there.
Here's a small look at my frapper map.
---
Write your own review
I get many of the reviews in the newsletter from the readers. You don't have to be a genius or computer guru. Just answer a few questions and send me a review. I'll probably put you in the newsletter.
---
What do you have to say?
Just tell me what article you are talking about and leave me your comment.
---
Have fun and surf safely.
Clif
http://clifnotes.net & http://freewarewiki.pbwiki.com
Devoted to promoting Freeware and Free Information
Want a free 2.7Gb Gmail account?
---
Please provide a link back to the webpage used if you publish any part of Clif's pages.
Visitors to Clif Notes: - Contact Clif?