WELCOME TO CLIF NOTES NEWSLETTER
September 11, 2005
Hi all,

Another week has gone by. The weather here in Ohio has been fantastic but a bit dry. The corn isn't nearly as tall as it should be and summer is almost over.

I hope you enjoy this week's letter. Be sure to email me for advice or to yell at me for messing up.
---
REVIEWS
CamStudio - Software Presentation Tool
CamStudio Website - Download CamStudio - Freeware
reviewed by GeorgesFreeware, comments by ClifNotes on 9/10/05
George has just written an article that describes how he uses the freeware version of CamStudio. He also mentions that although CamStudio creates large files, they can be shrunk dramatically using a tool that most XP users already have on their PC. Be sure to check out the video George made of CamStudio in use and another video on how to compress the CamStudio output.
Quote from George - CamStudio is compatible with Windows 95, 98, ME, NT4, 2000 and XP. The program includes a very good help file that is accessed through the program's Help menu option. It is very comprehensive. Anyone should be able to read it and understand how to use the program.
---
Ditto Clipboard Extension - keeps all your clipboard history
Website - Screenshot - Freeware
reviewed by ClifNotes on 9/2/05
If you've never used a clipboard extension, you may be wasting your time. How often have you been ready to paste something into a window and found that you've lost what you wanted to paste into it? If you had a clipboard manager you could view all the things that you had copied recently, and then grab what you had copied earlier and paste it again. There are many good free clipboard tools out there, and I recently tried one called "Ditto". Ditto has a number of good things going for it. First of all, it's an open source project at SourceForge. Secondly, it's very customizable. You can set your own hot keys and you can add folders to the clip history to organize clips you want to keep. Lastly, Ditto can communicate with other computers running Ditto, and they can trade or share clips over a network.
Ditto installed fairly easily, but when I was done, it needed to download and install a program called DAO (from Microsoft) to work. I don't mind using DLL's or OCX files to run programs, but the more things a program requires to run, the more problems I typically have with it. Other than the extra download, the only other thing that bugged me about Ditto was the lack of a local help file. I really struggled the first few minutes until I found a help page online. There is also an online forum where you can get help and suggestions.
My conclusion? Ditto is great, but the reliance on DAO makes it taste sour to me. I like portable programs that don't need to be installed, and don't need lots of DLL's or registry entries to work properly.
Quote - Ditto is an extension to the standard windows clipboard. It saves each item placed on the clipboard allowing you access to any of those items at a later time. Ditto allows you to save any type of information that can be put on the clipboard, text, images, html, custom formats, ...
Features
Easy to use interface
Search previous copy entries
Saves any type of information that can be put on the clipboard
Keep multiple computer's clipboards in sync
Data is encrypted when sent over the network
Send individual clips to other computers
Accessed from tray icon or global hot key
Assign hot keys to specific copy entries
Checks for updates automatically
Select entry by double click, enter key or drag drop
Very handy tool
Paste into any window that excepts standard copy/paste entries
Display thumbnail of copied images in list
---
EverNote - takes jotting down information to a new level
reviewed by ClifNotes on 9/10/05
I've looked EverNote over in the past and I was impressed at how professional the program looked and felt. Make sure to get the free version and not the time limited trial version unless you think you might buy the "Plus" version.
KK wrote to recommend this program. He's found many uses for EverNote. Here's what he has to say about the free version.
"I use EverNote for web notes, registry keys, and many other things. You can email from a note that you saved. It is easy to customize and create folders for saving notes. I have a shortcut on my quicklaunch bar to open it, and then I copy and paste stuff into the folder category I want. This is the best organizer that I have used. It is auto-updating and it has far more features than I have used."
The website says you can add buttons to Internet Explorer and Firefox for quickly capturing web content.
click to expand
Quote from EverNote - With EverNote 1.0, you can easily store and quickly access typed and handwritten memos, webpage excerpts, emails, phone messages, addresses, passwords, brainstorms, sketches, documents and more! Download the FREE version from the link below.
---
FolderShare Basic - Find, Access, Share your files anywhere
Website - Screenshot - Download - Registerware
reviewed by ClifNotes and KK on 9/6/05
I've never tried this file synching service. It allows you to share designated files and folders across the internet with another computer. Here's what KK, one of your fellow readers, says about FileShare.
I also use FolderShare a lot. It's easy to set up works great. I use it as a failsafe with my home network for sharing info between 3 computers. Sometimes I have issues with an xp home computer accessing my 2 xp pro's. It will come in handy when my son goes off to college in a couple of weeks. Not being as geeky as me, my shared folder of updates for him will automatically be synced on his machine 200 miles away. Obviously FolderShare has to be running on machines that one wants to sync. They allow quite a bit of file capacity to be synched for free. There is a once a week nag screen in the free version but it's worth it for me. I use it manually instead of letting it load at startup.
Quote - FolderShare is a service that allows you to securely keep files synchronized between your devices, share files with friends or colleagues, and remotely download your files from any web browser. FolderShare consists of two components - My FolderShare and the FolderShare Satellite.
---
NWS Radar Monitor Beta 3 - the storm is coming
reviewed by ClifNotes on 9/1/05
Here's another way to see if the storm is headed your way. This program from Thomas Swift goes out to the National Weather Service and downloads the latest 10 pictures of the radar and shows the pictures on your screen. The program is fairly small, and it installed quickly. I found that the program wouldn't run because it was looking for gdiplus.dll. I downloaded it and put it in the NWS Radar's program folder and I was off and running. The program is still in Beta so it's not polished yet. I'd like to see a way to minimize it to the system tray. I also had trouble moving and resizing the program window. Keep up the good work Thomas.
Update: Thomas has fixed the gdiplus.dll issue.
Quote - The NWS Radar Monitor was written in visual basic 6 to give people faster desktop access to their local weather radar information provided by the National Weather Service thru the internet. Gives the user instant access to radar imagery from any of the National Weather Service's 178 different U.S. weather radar installation's. Has 6 different map styles to chose from as well as automatic refresh every 2 minutes so that you are always looking at the most current set of imagery available from that location.
---
PocketDivXEncoder - easy creation of DivX from DVD
reviewed by CyberGuide on 9/4/05
Latest Updates from cyberguide
DIVX: POCKETDIVXENCODER
Geek Alert! Once in a while, I come across a software which blows me away...PocketDivXEncoder is a superb little toy which enables you to produce high quality DivX movies out of DVD's for a range of format including PocketPC, Smartphone, Palm and even PC desktop!
What amazes me with this freeware is its simplicity and excellent interface.
Click to expand
Quote from the author - PocketDivXEncoder allows you to encode any video clip with optimized parameters for handled devices (landscape mode, 240x320, low CPU usage, increased brightness, ...). The 2 video output standards (.ogm ou .avi) are playable on the famous DivX players on your PocketPC, Smartphone or Palm : The Core Pocket Media Player.
Note from Clif: Copying some DVD's is illegal in the US. See this forum post about the legal issues.
---
PIXResizer - picture resizing specialist
reviewed by ClifNotes and JeanInMontana on 9/10/05
I tried this one out at the recommendation of Jean in Montana. It's easy to install and the user interface makes powerful use of the various settings to help you get just what you want when you resize.
Here's what Jean said:
I have used it for a couple of years. Pix Resizer is so simple a child could use it. I just like it for what I did ... made an already existing file to the specified dimensions keeping the resolution intact. There is nothing fancy about it and I guess that is what I like.
Click to expand
Quote from PIXResizer - PIXresizer is a photo resizing program to easily create web and e-mail friendly versions of your images with reduced file sizes. The reduced files are saved in a different folder, so your original images are not altered at all. PIXresizer offers several different resizing methods to choose from and can automatically recognize image sizes to calculate the best fit. In addition, it can convert between image formats (JPEG, GIF, BMP, PNG and TIFF), rotate images, convert to grayscale and resize multiple images in batch mode. A great companion for webmasters and digital photographers.
---
TUGZip - trying to be a do-it-all archive manager
reviewed by Zaine at DonationCoder on 9/5/05
I've never tried TUGZip but I may give it a try after reading this article from Zaine. The article explains some of the ideas behind file compression or "archives" and awards the "best of" in the categories of all archive programs, open source, and freeware.
Below is just a portion of the article concerning TUGZip. Go here to see the entire article.
At first glance, TUGZip gives the appearance of a quality archiver and one you're inclined to favor. But scratch the surface and you'll find TUGZip is slow with large archives. Although it took less than twelve minutes to archive our 1G test file using RAR format in TUGZip, it took almost 50% longer using its default 7z format. Nor did its encryption feature work.
Three different layouts are available, with something to suit all skill levels, and for the real beginner it's possible to create self-extracting archives which require no archiving software open. While its SFX module worked well, its dialog would not allow you to type in the file name, despite being prompted to. TUGZip's current version is 3.3.x, and it will be interesting to see its progress over the next year, and when we revisit our review of archivers.
PROS
Interface is familiar, somewhat customizable, and its Explorer view is easy to use.
Configuration options were ample, and applied immediately.
Ability to export customized settings.
Batch archive creation.
RAR and 7z creation and extraction (WinRAR creation requires an installation of WinRAR).
CONS
Suffers from slow archiving speed.
When navigating the archive directory in archive view, TUGZip does not update the tree view.
Help file was an older version than the program.
New archive path had no memory of last folder or default archive folder.
GUI and toolbar customizations are minimal.
Find feature consistently found wrong files.
Unable to create archive using the Add To option in the context submenu.
Encryption option from Tools menu is inoperative.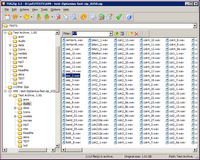 click to expand
Quote from TUGZip - TUGZip is a powerful award-winning freeware archiving utility for Windows® that provides support for a wide range of compressed, encoded and disc-image files, as well as very powerful features; all through an easy to use application interface and Windows Explorer integration. Try this great free archiving utility!
---
TIPS
Advanced Mailto Encoder - adds many options to an email link
Website - Free Web Service
reviewed by ClifNotes on 9/3/05
Every time I wanted to make a fancy mailto link on a webpage, I had to go out and do a search for all the options to see how they are formatted. Now all I have to do is fill out this webform and I've got an instant html link that sends an email just the way I want it.
Quote from the website - Below is one of the most flexible email address encoders available on the web. You are allowed to pick from several options, to select things you want to do and things that you don't, and to finally see the end results.
---
Configuring Firefox and Mozilla to open pages in new windows/tabs
Bill's Web - Tip
reviewed by BillWebb on 9/6/05
The Firefox, Mozilla and Opera browsers, along with most of the tabbed browsing extensions I've tried for Internet Explorer, such as Avant, allow you to configure them to open links in new tabs or windows. Firefox and Mozilla allow you to do it with a click on the mouse wheel, if you have one, or from the right-click context menu if you don't. Opera is configured similarly "out of the box," and so are most of the others. (If you haven't tried tabbed browsing yet, you really owe it to yourself.)
Here's how you do it in Firefox:
From the Tools menu, go to "Options," then "Advanced," then click on the little + mark next to Tabbed Browsing. Check "Open links from other applications in: 'a new window,' or 'a new tab in the most recent window.'" Also check "Select new tabs opened from links," if you want focus to go to the new tab automatically. Click "OK" and close the window. Now, when you left-click on a link it will open in a new window; center clicking a link will open it in a new tab, and center clicking an opened tab will close it.
Mozilla is done similarly. I don't have a copy on my computer right now, but their options are pretty close to identical with Fx's, since they both use the Gecko engine.
Regarding tabbed browsers in general, Firefox is my choice simply because it's small, and highly configurable with extensions written by the extensive community of enthusiasts. Opera and Avant are both faster-loading, as is Internet Explorer. (In actual browsing, I don't see any important difference in speed.) I really like the Avant interface, but it does use the Internet Explorer engine and is thus prone to all the security problems inherent in IE. Both are safe to use only if you keep your copy of Windows scrupulously updated. Opera and Mozilla are great if you want a full system, with mail client and other bells and whistles. I don't. If I did, I'd probably choose Opera, which is free if you don't mind a "toolbar" of Google ads at the top, or $39.95 US if you do mind. Personally, I don't mind.
---
The Spyware Warrior Guide to Anti-Spyware Programs
Website - Security Advice
reviewed by ClifNotes on 9/1/2005
While surfing the web, many people who are new to the internet will get pop-up ads telling them that their system is at risk and they should get "brand X" anti-spyware program. Many times the newbie will pay for a program that's actually going to cause as much trouble as it fixes. Where should we tell them to look for good programs and get warnings about the bad ones? Here it is. This is the definitive one-stop shopping location for anyone needing good anti-spyware protection.
Tip: If you are looking for bad programs you can quickly search using your favorite search engine by using the site search feature. If I was looking for ZoneProtect or zoneprotect.com, I would go to Google and type in this search query:
site:spywarewarrior.com "zoneprotect"
One more thing. As a general rule, don't trust any program or service that comes to you as a popup or arrives as spam in your email.
Quote from the website - Quote from the website - Given the bewildering array of programs and features available to users looking for anti-spyware applications, users may find it difficult to usefully compare anti-spyware programs and their feature sets. To remedy that potential confusion, this page presents two Feature Comparison Tables for the major anti-spyware programs currently available. An explanation of the features considered can be found below the table in the Notes section.
Quote from Bill - My motto is K.I.S.S., so don't expect to find any deep, mysterious geek stuff in my posts.
read more articles from Bill Webb
---
COOL WEB SITES
TAS Indepentent Programming - independent source for freeware
Website - Cool Website
reviewed by ClifNotes on 9/6/05
Attitude is an important part of any website. The word "independent" isn't just another word at Thomas Swift's website. Thomas has offered his custom made software for the world to use, and his attitude seems to be part of the download. I'd like to see more sites like this. There are already way to many flashy commercial sites out there. If we all become a bit more independent, maybe sites like these will be with us for a long time.
Quote - We do not have to accept what others want us to be. We do not have to accept other's standards. What we do have to be, is ourselves, and all the excellence that comes from being ourselves.
---
SourceForge.net - home of open source software
Website - Search for software - Cool Website
reviewed by ClifNotes on 9/7/05
The last time I looked, Source Forge had over 100,000 projects and over 1 million people registered who help develop the projects. Many of these projects are freeware programs. Now that's a resource no one can afford to overlook. Open source means that anyone can download the program code and change it or add to it. This open environment for creating software means that a program or project can evolve faster with many people contributing to it. A good example of an open source program is the Mozilla Firefox browser.
Quote - SourceForge.net is the world's largest Open Source software development web site, providing free hosting to tens of thousands of projects. The mission of SourceForge.net is to enrich the Open Source community by providing a centralized place for Open Source developers to control and manage Open Source software development. To fulfill this mission goal, we offer a variety of services to projects we host, and to the Open Source community.
---
The Portable Freeware Collection - a great place for great freeware
Website - Cool Website
reviewed by ClifNotes on 4/3/2005
Here lies a website that offers links and downloads of "portable" freeware programs. If you use these programs, you can put them on a floppy, cd, or usb thumb drive and use them on anyone's PC with no installation required. The website is well organized and the webmaster has taken great care to make sure the programs are truly portable and truly free.
Quote - This site is dedicated to the collection and cataloguing of freeware that can be extracted to any directory and run independently without prior installation. These can be carried around on a memory stick / USB flash drive, or copied / migrated from PC to PC via simple copying of files. Hence the term portable freeware.
---
NEW NEWS
Interview With BillP, Creator of WinPatrol
reviewed by ClifNotes on 9/10/05
Tom at Temerc recently sat down and talked with Bill Pytlovany, the author of my favorite IDS program, WinPatrol.
Here's a snippet from the interview. Make sure to drop by and read the full article.
TeMerc wrote:
How and when did you decide to get involved in the world of ad\spy\mal\mystery\grey-wares(insert your own word already) detections?
BillP:
My initial entry into this segment of the industry was security related. The term Spyware was special clothing worn by Man from U.N.CL.E. WinPatrol was initially created in response to a program created for "script kiddies" to steal other people's AOL passwords. A "Script Kiddie" is young hacker wannabe with no real life, no real technical knowledge but gets online to trade warez and tools created by others.
The first version of WinPatrol released in 1997 was free and able to catch anything that was added to your traditional startup locations. The free version was something I called Birthdayware. Every year on my birthday a message would pop up inviting users to send a birthday Email to me if they liked WinPatrol.
Here's a picture from BillP's house.
Scotty the Windows Watchdog is the only pet in my systemtray. When Scotty barks, I listen.
Click to enlarge
---
FEEDBACK AND OTHER STUFF
Starwars Wedding - love, honor, and draw your light saber
CyberGuide sent me this link. If you've ever thought about a theme for your wedding, be sure to check this one out. http://pg.photos.yahoo.com/ph/james_net99/album?.dir=cf3f
Popping headers on POP3 email
Yinony wrote to ask: I'm looking for a free utility that downloads only the mail headers from the mail servers so you can delete unwanted mails. Can you suggest of any?
I once used a program called eprompter. Look here for this and many other similar programs:
http://www.snapfiles.com/freeware/comm/fwemcheck.html
Freeware Arena Face-lift update from last week
Scott wrote: Just wanted to check in and let you know my site is relaunched and I have corrected my links for your site on mine (updated them that is).
Wow! The top banner really jumps out at you. I like the new rounded corners (XP look?). Thanks for updating the newsletter link. I'll be sure to tell my readers to give you a lookup. Best of all, I can always count on you to have the best clean freeware.
Publisher is warned update from last week
Based on what Brian wrote, and what I found myself, I wrote this to the webmaster at Freeware Publishing Site.
Why are these at your site?
"3d Waterfall Screensaver"
http://www.freewarepub.org/freewarenew.asp?strtrec=8&varcategory=Screen%20Savers
and "rotect Anti-Spyware 1.0"
http://www.freewarepub.org/freewarenew.asp?strtrec=61&varcategory=Security%20Tools
The screensaver is shareware according to it's license agreement. The anti-spyware app is ZoneProtect and is listed at SpywareWarrior's Rogue antispyware page. http://www.spywarewarrior.com/rogue_anti-spyware.htm
I hope he has a good explanation. I haven't heard back from him yet.
Windows Care or don't care?
BillAllin wrote to ask me if I'd ever tried Advanced Windows Care 1.21.
I wrote this back: It does sound interesting. I'd be totally amazed if it was able to do what it claims. Most of the programs I see like that one leave a bad taste in the mouths of those having tried them.
I later checked at Download.com's user reviews. It didn't look that great. Some people loved it and some hated it. Use this one at your own extreme risk. Sorry Bill, I ain't touchin' this one.
Transparencies are not so transparent
Zaffar in Pakistan asked me: I have very old 35 mm colour transparencies and would like to save them to digital photos. Is there any way I can do it with the help of some software ? I have an Acer scanner with me...
I was asking myself, what does Zaffar really need? He's already got the slides and the scanner. Are you asking me what my favorite photo cataloging tool is? So, far ...
Picasa by Google. It's free and offers a ton of tools to adjust the look and feel of your photo's. It also integrates with Google's Gmail, so that you can pick out photos and email them to friends with just a couple mouse clicks.
Spyware in the newsletter?
Brian, an ever vigilant reader tells me: I was browsing the past letters and found an item on the 7-03-04 page called Ram Medic that you use for your Windows ME, hopefully you have XP by now. Anyway I installed it and found the following... Installs PC Medic on the desktop after you run the program and installs spyware called Effective Inc. that was found by Trend Micro Spyware remover. I did not see anything in the accept terms notice.
It used to be a good program. It looks like they updated the program at Iomatic and made the program trialware. In other words they ruined it. I did find the older freeware version at Snapfiles. Here's an updated review. I also fixed the link in the old newsletter, but it needs a lot more work to fix broken images.
To everyone: I like getting messages from you. Don't hesitate to EmailClif with your comments.
---
Have fun and surf safely.
Clif
http://clifnotes.net & http://freewarewiki.pbwiki.com
Devoted to promoting Freeware and Free Information
---
INDEX

---
Reviews:
CamStudio - Software Presentation Tool
DittoClipBoardExtension - keeps all your clipboard history
EverNote - takes jotting down information to a new level
FolderShare - Find, Access, Share your files anywhere
NwsRadarMonitor - the storm is coming
PocketDivxEncoder - easy creation of divx from dvd
PixResizer - picture resizing specialist
TugZip - a full featured archiving tool
Tips:
Advanced Mailto Encoder - adds many options to an email link
Configuring Firefox and Mozilla to open pages in new windows/tabs
The Spyware Warrior Guide to Anti-Spyware Programs
Cool web sites:
TasIndependentProgramming - independent source of freeware
SourceForge - home of open source software
ThePortableFreewareCollection - a great place for great freeware
New news:
Feedback and other stuff:
Please provide a link back to the webpage used if you publish any part of Clif's pages.
See past letters - Search the Reviews Archive - Subscribe to the newsletter